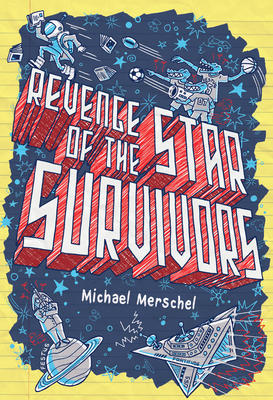 Revenge of the Star Survivors, Michael Merschel, Holiday House
When eighth grader Clark Sherman moves to a new school, his school records are lost en route. Placed in the wrong classes, he decides to treat the school as a new planet where he meets strange beings. Great humor and also a sensitive treatment of bullying, including the motivations behind bullying and a demonstration of how the bullied can tack charge. It is impossible to state how much fun this book is while passing great insight. One of my best reads in months and ideal for Grade 6 and up.
End of The Day, Claire North, Redhook
End of The Day is a haunting, surprising book on death. It's a fictional story, not a philosophical tract, but its questions go deep. Charlie has a new job as the Harbinger of Death and the reader travels with him, as he prepares some for Death to visit and others to warn of changes needed. What is Death, what is the nature of Death, and does Death enliven living or not? I was sucked into the novel in four pages and its mass of unanswered questions kept me reading until the last page. Excellent novel of reflection.
Often I Am Happy, Jens Christian Grondahl, Twelve
This short book is translated from Danish and it is a gem of minimalist writing. Elsinore is seventy. Her husband and best friend, who was once married to her husband, have passed. She relates her life story to her best friend's grave, including both the joy and the pain her brought her. She feels she has finally found herself and at last feels like she belongs on earth and can cope on her own—a conclusion that does not come easily to her. This is a beautiful book to me. Its writing is sensitive and to the point. I was totally with the character and listening to every word uttered. Simply stated, a really good story that would make a good short Book Club read.
Enemy, Betsy Dornbusch, Night Shade Books
Exile is the third in a fantasy series, set in an Iron Age style world. Draken is suspected of the murder of his wife and only lives to clear his name, against unbelievable odds, including his struggle against his own grief.  Everything is stacked against him and the book is packed with action and adventure. The books in the series would make a good travel read for adults and older young adults.
Alien on the Rez, Mikel Hamel
This is a good series for readers from 4th through 6th Grade, with other titles including: UFO on the Rez, Bezer's Billions, The Long Walk Home, Zack's Cave and The Green Bees. A group of kids in the fictional town of Cape Myra solve mysteries and run into moral dilemmas.

The Matterhorn Series, Mike Hamel
Good Sci-Fi in the tradition of Brandon Sanderson, meaning there is always an ethical question along with the adventure. There are two books in the series: The Sword and the Flute and Talis Hunters.
A 12-year-old boy discovers a time portal in a book that whisks him away to different times and places both on earth and beyond, always to adventure and intrigue.